Count Down to Halloween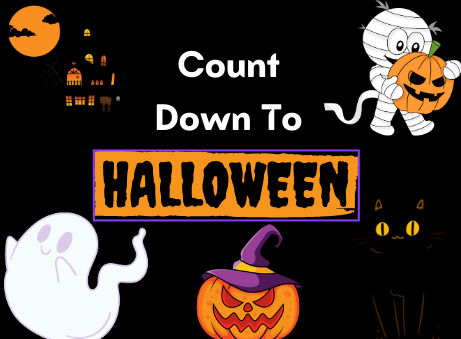 Time is ticking, and Halloween is right around the corner. This Halloween, think about how you could spend more time with your family. There are several different ways to spend quality time with your family. Some of these include going out trick or treating, going to the movies, or even chilling at home enjoying a bowl of popcorn. 
One fun thing about spending time with family would be Trick or Treating. Usually on Main Street the whole community comes together at the Montevallo First Baptist Church. However, you could just go safely with an adult in your neighborhood. I highly recommend this because it is a fun way for your family to meet others and for you to mingle with kids you have never seen. 
Another activity for you and your family would be going to the movies. There are different movies based on the Halloween season. For example some movies coming out include Hellraiser, Prey for the Devil, and Halloween Ends. However, if you are not into horror movies then there are other options. 
Lastly, If you and your family like to save money then perhaps cable, Netflix, Disney Plus, Hulu, HBO Max, or even Amazon Prime would be a better option. Every October Freeform holds a countdown to Halloween which shows 2 to 3 Halloween movies a day. Now if you don't have cable but you pay for another tv and movie option listed above then you might love the new movies coming out. For example, Hocus Pocus 2 showing on Disney Plus, Wendelle and Wild, and The School for Good and Evil both coming to Netflix. 
Hopefully you plan to do something fun for Halloween, but if you ever get stuck in a dilemma then you can refer here for some cheap backup options.