After Earth thrills with sci-fi action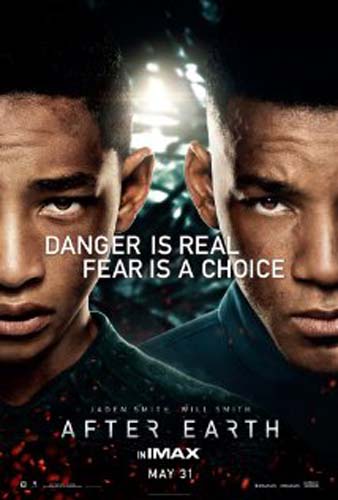 After Earth is a science fiction film released Friday, May 31, starring celebrity Will Smith and his real-life son Jaden Smith.
Will Smith plays a veteran solider named Cypher who is known for his lack of fear.  Jaden plays Cypher's son, Kitai, a young boy who has just failed his test to become a member of the Ranger Corps, a peacekeeping organization commanded by Cypher.
The story is set far in the future, when humans are forced to abandon Earth and settle on a new world called Nova Prime. Here the Ranger Corps get into a battle with huge alien creatures called Ursas that use the smell of fear to sense their enemies. The Ranger Corps take out the Ursas using General Cypher's ability to "ghost," slang for suppressing his fear.
Viewing his son as a disappointment, his wife and the mother of Kitai, Faia (played by Sophie Okonedo), convinces Cypher to take Kitai on his last voyage before his retirement.
During flight they are hit in an asteroid shower which causes their ship to make a crash landing on Earth, which is now a completely hostile environment.  After the crash, there are only two survivors, Kitai and Cypher.  Cypher has injured both of his legs in the accident, and the beacon to fire a distress signal into space is located in the tail of the ship which is crashed a distance away from the main ship.
On board the ship was an Ursa, and Cypher tells Kitai that Ursa most likely died in the crash, but there is a chance that it is out there. Kitai must now venture through the hostile land to retrieve the beacon so that they can fire off the distress signal.
I loved this movie, and I think it had good visual effects with tons of action, while maintaining a good, deep storyline. With stellar performances from both Will and Jaden, the movie was absolutely amazing. Look for the movie coming to DVD Tuesday, Oct. 8.