Head football coach resigns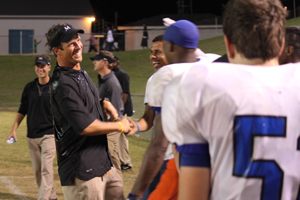 With the regular football season over, and basketball coming to a close, spring sports are on the rise, and the countdown to spring football has begun.  This spring, though, the Montevallo Bulldogs will not be led by Jamie Williams, but a new coach.
    Williams resigned in late January and has been looking to find a new job coaching football.
    "I just want to get back to a level of football where it is more specialized," Williams said.  "I hope to get a job as a coordinator somewhere at the 5A or 6A level.  There, it is just so much more structured, where I will be assigned five or six guys that I get to coach for two hours at a time."
    Williams doesn't regret his experience at Montevallo.  It has helped him learn a few valuable lessons.
    "The kids here have probably taught me more than I have taught them," Williams said.  "I just hope that some of the values I have tried to instill in them will stick and make them better men."
    Williams had a record of 7 and 15 at his time at Montevallo.  His efforts have not gone unnoticed. 
    "Coach Williams leaving isn't what I wanted to see as I get ready to enter my senior year," senior Korey Cunningham said.  "But even though he is leaving, we're still going to work hard and get better in the offseason.  We all wish him the best of luck finding a job, and having success wherever he goes."
    With Williams leaving, and Montevallo searching for a new coach, the Bulldogs will continue to work hard and get ready for next season no matter who is coaching them.