Off season practice prepares players for spring game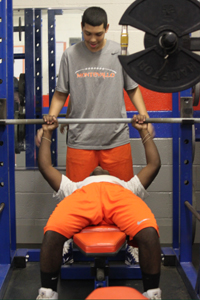 The Montevallo High School football team has been hard at work during the off season.  With a loss at Bayside Academy in the playoffs leaving a sour taste in everyone's mouths, the players and the entire coaching staff are striving for a better season in the fall. 
    The post season loss serves as a motivational force behind the players, reminding them how much work is needed to carry them into next season. 
    "We are using the loss against Bayside as motivation this year so we can reach our goal of making it past the first round of the playoffs and have a successful season next year,"  junior tight end Korey Cunningham said.
    Starting in January when students returned to school, the football team started their off season training.  Everyday during eighth period, they work out under the supervision of head coach Jamie Williams.  Those who do not have athletic P.E., including eighth graders who plan to be on the team next year, work out after school under the supervision of assistant coach Richard Colley.
    How well a team works in the off-season is a huge indicator of the team's potential for the following year. 
    "Everybody sees that we work hard during the season but what they don't see is the hard work-outs in the off season," junior receiver Tre McClendon.  "In my opinion, off season workouts are the most important.  These are the workouts that can determine how good a team does during the season."
    After the off season workouts, spring training will start, and the Bulldogs will prepare for their spring game against the Verbena Red Devils on May 11.  Afterward they will take a short break before beginning summer workouts and start practicing again.