Bulldogs outshine opponent during televised game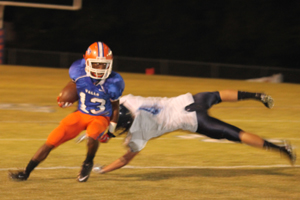 Thursday Night Lights sponsored the Montevallo vs. Northside football game Thursday, Oct. 6.  The production allowed the game to be viewed all across the state.  This publicity helped the Montevallo athletes to shine in front of an audience of thousands.  The Bulldogs seemed to have kindled a new fire under them as they played the hardest they had played all year. 
    "It was very nice to showcase our school and our football team on TV," head coach Jamie Williams said. "The players really responded by playing the best game of the year." 
    The night featured many stars, and former Alabama quarterback Tyler Watts narrated the game which was broadcast on the My 68 channel.  Jack's sponsored the event and showered the home crowd with t-shirts and coupons.  Senior kicker Brett Gray was featured as the Waste Pro Scholar-Athlete of the Week. 
    The team came out with an overall good win, and senior R.J. Scaife had nine caries for 190 yards and two touchdowns.
    "We came out with more intensity," Scaife said "We were ready to play and we put together a quality win." 
    Fellow senior Garrius Chapell also had two touchdowns.  Senior defensive lineman Patrick Lawley had a 42-yard fumble recovery for his first career score, and senior defensive back Matthew Talley had a 52-yard interception return for a touchdown. The game was a great win for the Bulldogs and helped propel them into the remainder of the season.  Final score was 44-7.