Bulldogs stung by Yellow Jackets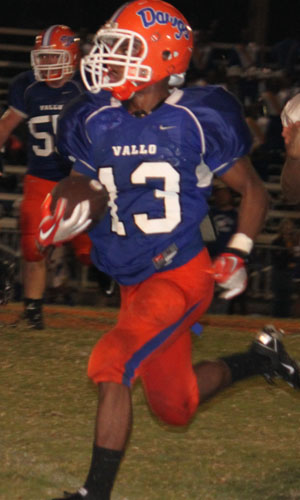 For Homecoming 2011, the Bulldogs took on the Aliceville Yellow Jackets Friday, Sept. 9.  The Bulldogs were defeated by the Yellow Jackets after putting up a tough effort with a final score of 48-25.
    "We have to work on us getting better and not the other team," head football coach Jamie Williams said.  "We must cut out our mistakes. We have so much potential and the players have to find a way to reach that potential."
    Aliceville returned the opening kickoff for a touchdown. Senior Brett Gray kicked a 32-yard field goal, giving the Bulldogs only 3 points at the end of the first half to Aliceville's 32 points.
    At the end of the third, quarter senior Garrius Chappel scored a 40-yard touchdown run. The Bulldogs' R.J. Scaife intercepted one of Aliceville's passes and ran it back for a 65-yard touchdown.
    In the second half of the game, the Bulldogs came back outscoring the Yellow Jackets 21-14, but this wasn't enough to keep the Yellow Jackets from stealing this victory from the Bulldogs. 
    "We need to limit our turnovers," senior Matthew Talley said.   
    Chappell lead the Bulldogs with 145 yards on the ground.  Following Chappell was Scaife with 95 yards.
    "We played hard, so all we can do is go back and practice harder, and hopefully get a win next week," Scaife said.