Bulldogs struggle against Red Raiders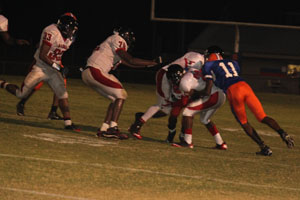 After a very disappointing start to Montevallo's football season, the Bulldogs were determined to get a win in the second game of the year against the Greensboro Red Raiders.  This was the first area game of the season and an important game for the Bulldogs if they wanted to set the tone for area play.  With a lot to prove, the Bulldogs showed a ton of promise in the first quarter.
    "We had a drive that was 11 minutes and 8 seconds long," said head football coach Jamie Williams.  "Without a doubt in my mind, that was the best drive that I have ever been a part of as a coach."
    Unfortunately, that would be the only score the Bulldogs put on the board for a quite a while. 
    Senior Garrius Chappell decided it was time for him to put the Bulldogs on his back, as he carried the ball 24 times and rushed for 89 yards on the ground. 
    Senior Eugene Rodgers wasn't going to let Chappell carry the load alone. 
    "I went to Burr in the huddle and said, 'Garrius can't keep doing this by himself, I want the ball in my hands,'" Rodgers said.  "When I got the ball I ran north and south, just trying to make something happen.  The offensive line did a great job making holes for me to run through."
    Rodgers finished the game with 16 rushes for 84 yards on the ground.  He also had four catches for 28 yards, giving him 102 all purpose yards for the night. 
    "We played hard, and it was a struggle, but sometimes that just isn't enough," senior Trey Colley said.
    Colley, who was sidelined for the season in the Jamboree game, still has a lot of expectations for his teammates.  The final score was Greensboro's 45 to Montevallo's 24.