Bulldogs fall to rival Calera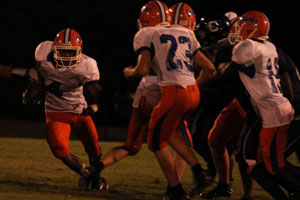 On Friday, Aug. 26, the Bulldogs traveled to Calera, to take on their arch rivals, the Calera Eagles. 
    The Bulldogs got the ball first, and did not have much luck on their first offensive drive.  When the Eagles got the ball, however, it was a different story. 
    Junior quarterback Zach Reneau dissected the secondary and got the Eagles off to a 7-0 start with a 3-yard touchdown pass to junior Jacob Danley.  At the end of the first half, the Bulldogs were down 0-40.  To open up the second half, Calera junior Ronnie Clark had a demoralizing 94-yard kick-off return.  However, the Bulldogs bounced back with a 37-yard touchdown run by Garrius Chappell. 
    "We have been preaching to players all off-season about not giving up, and that all games are winnable," defensive coordinator Matthew Taylor said.  "I was impressed with our persistence."
    Eugene Rodgers also had a 54-yard touchdown run. 
    "The Bulldogs had sparks of greatness all over the football field" senior Chris Terrill said.
    Chappell and Rodgers had a combined 210 yards on 37 attempts.  Senior quarterback Taylor Burr was 4-8 with one interception.  Montevallo combined for 251 total offensive yards, and Calera had 489.  The final score was Calera 61- Montevallo 14. 
    "I contributed my best throughout the game but as a whole team it just wasn't good enough to bring home a win," senior Patrick Lawley said.