Teacher Appreciation Week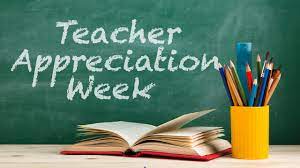 This week is teacher appreciation week at Montevallo High School. We celebrate teacher appreciation week to honor all teachers who have helped us learn and grow. Many clubs have had many stuff planned such as lunch meals, snacks, and gift baskets for all our lovely teachers. They try their best to prepare us for college and it can sometimes be stressful. Here at MHS we love our teachers so much that we host these things to show our appreciation towards them. 
School can be stressful and boring but they try to make it a fun and safe environment. Without these teachers we would be able to have all these clubs and sports we enjoy. When asked which teacher he appreciates more Tyler Thompson said "Ms. Hot because she's helped me succeed and grow in my education and I also really enjoy her creative writing class." Izabella Zavala said that she appreciates Coach Grayson because  he's taught her how to speak more professionally. Zavala also said " he has a very good way of teaching and has very good humor." We will always be thankful for the teachers that we have here at MHS because they make the school a better place.
Happy teacher appreciation week!