National Honor Society attends chamber meeting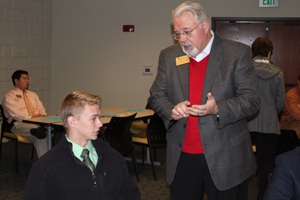 The National Honor Society was invited to the Montevallo Chamber of Commerce Membership Luncheon Wednesday, Jan. 18.  The keynote speaker was Dr. Stephen Craft, the Dean of the University of Montevallo's school of business.  His speech explored subject of marketing, suggesting marketing techniques and surveying.
    After Craft's humorous yet enlightening speech, the National Honor Society was awarded four tickets to the Ringling Brothers Dragons circus that was showing at the BJCC arena the last weekend of January.  The members chose to donate their tickets to two students at Montevallo High School, seniors Vincent and Michael Riddle.  
    The National Honor Society is an academic honor society, and membership is determined based on strict criteria of a student's exceptional performance in academics, service and character. These standards for selection form the base upon which the organization and its activities are constructed.  
    Media Center Specialist Anita Glover is the sponsor of National Honor Society.
    "Being a part of the National Honor Society is a huge responsibility," Glover said.  "But, it is very rewarding.  Students raise money for muscular dystrophy and cystic fibrosis, and someday they will see the rewards of their hard work."
    Glover is planning new inspirational events for the National Honor Society to be able to attend each year.    
    Members of the National Honor Society include seniors Keelon Bunn, Taylor Burr, Kelsey Childress, Trey Colley, Addie Edwards, Cole Frederick, Malik Garner, Connor Goggins, Brett Gray, Maryann Lee, Raechell Miller, Jessica Norris, Kathryn Ray, Peter Seeds, Jonathan Smith, Zack Smith and Lam Wang.