Day of Pageants stirs anticipation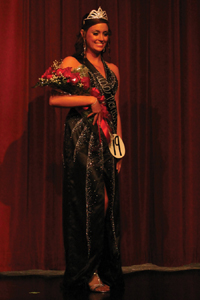 As the second semester of the 2011-2012 school year begins, the students of MHS are looking forward to events such as prom, spring break and, of course, the annual Montevallo Day of Pageants.  This year the pageant will take place Saturday, Feb. 18 in the Montevallo High School Performing Arts Center.
    "I am so excited about the pageant!" sophomore Emily Colley said.  "It's a lot of fun, and I always enjoy it each year I do it."
    This year there will be six different pageants: the Mini Miss Pageant for kindergarten and first grade girls, Little Miss for second and third grade girls, Young Miss for fourth and fifth grade girls, Junior Miss Montevallo for middle school girls and the Mr. and Miss MHS Pageant for all high school students.
    "I cannot wait for the pageant!" junior Francesca Luca said.  "This will be my first one, and I am so excited!"
    Luca, who is from Italy, said that Italian schools do not have pageants.
    The pageant will begin at 2:30 p.m. with the Mini Miss division.  The Little Miss division will take place next, then the Young Miss.  In all three of these categories the contestants will walk on stage, introduce themselves to the judges and the crowd and do a little turn.
    The older contestants will go on later that night, starting with the Junior Miss Montevallo division at 6:30 p.m.  After Junior Miss the Mr. and Miss MHS division will begin. In these categories the participants will attend an interview the afternoon of the pageant in which three certified judges will ask the contestants questions to get to know them better. The interview is a large part of the judges' winning decision. The rest of the score is made up of the appearance and stage presence of the participants that night.
    The participants will be crowned by the 2011 winners from each pageant. This year's crowning will be done by Little Miss Anna Bright, Young Miss Yami Eslava, Junior Miss Guadalupe Serrano, Miss MHS Amanda Gwin and Mr. MHS Stone Pritchett.
    Students interested in participating in the Mr. and Miss MHS category can get an application form from the office. Both the entry form and the fee are due Friday, Feb. 10.