Baseball team readies for season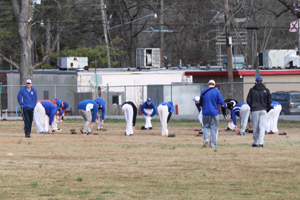 As winter gets underway, athletes are preparing for spring sports.  Montevallo High School's baseball and softball teams have started loosening their arms and stretching their legs for the 2012 Spring Season on the ninth of January. 
    "We can't officially start swinging a bat and taking the field until the first of February," head baseball coach Trey Simpson said. "But we can start throwing in early January, and we are trying to get the edge on our opponents this season by getting started now."
    Simpson is not only dedicating his time to baseball, but he is also running the girls' softball part of practice until head coach Tena Niven can conclude coaching the girls' basketball team and begin focusing on softball. 
    "Coach Simpson is really helping me out with coordinating the girls' practice," Niven said. "But as soon as I can be out there I will be, because I believe we have a good chance at being successful this season."
    The girls are responding well to practice routines with Simpson.
    "Softball is a totally different sport, played in a totally different way," junior Megan Draper said.  "But I really appreciate coach Simpson's willingness to just be around us and do his best to teach us what he knows."
    Simpson is implementing a new long-toss program for the baseball team.  He is also letting the softball team use the same program, in hopes of really increasing the strength of the players' arms.
    "Ever since I messed up my shoulder my sophomore year, throwing has been really painful," senior Zack Smith said. "But with this new throwing program, my arm is actually getting stronger, and I am having hardly any pain.  If we keep up with the program, then I think we are going to see some major differences in our arm strength this season."
    The baseball team will open up Monday, Feb. 20 against Calera at home.  The softball team will open their season at Jemison on Monday, Feb. 27.